Registered Voters
231,000
"Clear Ballot will give me peace of mind in every phase of the election – Clear Ballot has been the greatest advancement in the election process within the last 100 years."
by the numbers
The Clear Ballot Difference
See how using Clear Ballot has benefitted our customers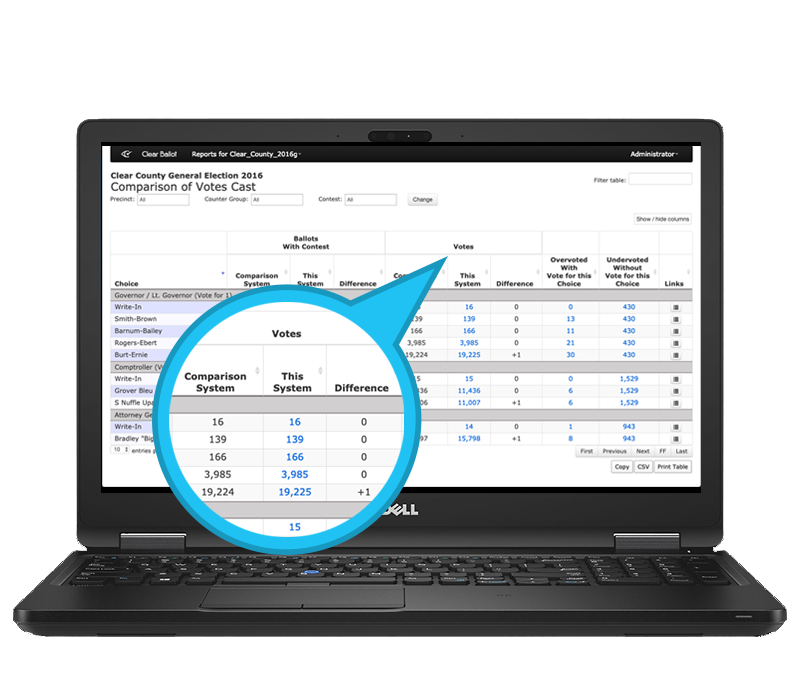 Gertrude Walker wanted an accurate vote count. As the supervisor of elections for St. Lucie County, she had recently overseen the manual recount of two very close races. The difficulties inherent in resolving a close race were compounded by failures of the voting system, which did not have proper inventory tools to keep track of ballots.

The resolution of a close race requires a manual recount, a time-consuming, error-prone process with a statutory deadline. To conduct both recounts, Gertrude's staff had to account for all ballot boxes. Despite some discrepancies, Gertrude had been able to assure candidates and the public of the rightful winner. Her success in dealing with the immediate problem strengthened her commitment to getting an accurate count that was independent of the voting system that had failed.

In July 2013, Clear Ballot began working with Gertrude to audit the vote independently. She used Clear Ballot's Visual Verification technology to review ballots as they were scanned. She remarked that she never had the opportunity to look at marginal votes during a recount. When the ballots were scanned, Gertrude used Clear Ballot's ballot inventory system to organize the election digitally and account for all box and ballot locations.

The audit confirmed that the vote count was accurate, which gave Gertrude considerable peace of mind. Neal Sullivan, the department's operations manager, noted that the organization the Clear Ballot system provided and the speed with which the audit could be completed was a significant improvement on the county's previous processes.
CASE STUDIES
Related Customer Stories
Stories of election officials who have benefited from Clear Ballot